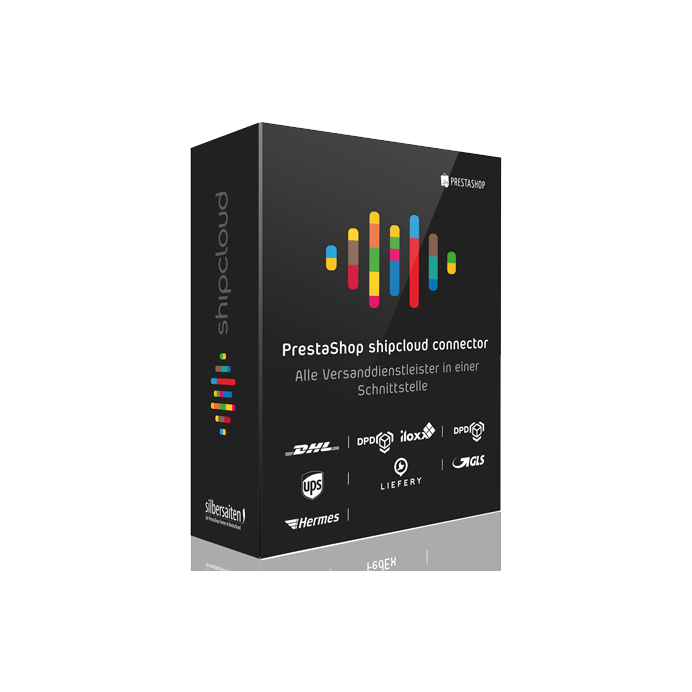  
shipcloud - Shipping Tool for DHL, Hermes, UPS, DPD, GLS, Fedex und Lifery
With shipcloud, the new generation of parcel shipping begins: via the cloud-based service, online merchants can easily and straightforwardly cooperate with all major parcel service providers. Regardless of the number of parcels to be shipped, merchants can choose the most favorable tariff in each case. With the silver-string module "shipcloud" you can generate shipping labels from the Prestashop backend. All relevant parcel services are supported: DHL, UPS, DPD, Hermes, GLS, ILOXX, FedEx and Liefery. All you need is a shipcloud account, and you can immediately send and track the parcel of your choice at favourable conditions. If you already have contracts with one or more parcel services, you can use them in shipcloud and create shipping labels with your own account data.

Official Prestashop module developer

1 year free support and updates

Prestashop partner since 2009
Offer your merchants multiple shipping options with only one shipcloud account
New in 2.0
Mass processing
Now You can generate several labels in one move and save them in PDF file. Also existing labels can be printed out again.
Several Labels for one oder
Unlimited number of labels for each oder
Create return labels
Now return labels can be generated directly from the Back Office
New shipping services
Update shipping services directly from your Back Office
All shipping services plugged subsequently can be updated from the Back Office
Order Reference or Order ID
optionally, the "Oder Reference" or "Oder ID" can be selected to display on the label
Extra Insurance for DHL and UPS directly from the Back Office
Different shipping options for DHL
For DHL different shipping options can be selected

Standart
Express
Express till 10 o'clock

Select a shipping service when creating the label
Uncomplicated comparison of the prices of the shipping services
Benefits
Create shipping labels for the following shipping services

DHL,
DPD,
UPS,
Hermes,
GLS
ILOXX
Fedex
Liefery

You can handle everything with only onbe Shipcloud Account
Direct label printing from the PrestaShop Backend
Automatic tracking code creation in the order details
You can define a global weights / sizes for every shipping service with the availability to modify this data on the shipping label
Tracking goes directly from order details screen
Display porto/shipping on the shipping labels
Multishop support
shipcloud enables the worldwide shipping with FedEX and UPS.  shipcloud enables shipping for DPD from AT, CH and Benelux countries. Other Carriers are available for shipping only from Germany.
Features
No shipping data export
No manually creating of shipping labels anymore. Just print them out with your PrestaShop BackOffice, labels will be generated in real time and are pre-configured for the

appropriate

shipping service
no extra agreement with the shipping provider needed, it is organized centrally by shipcloud. But you can you your existing agreement data to get connected with your service
Shipcloud supports the shipping methods within the EU
Get registered at shipcloud now
About Shipcloud
Our goal is to create a unique interface for all common shipping services that meet all the modern standards and that you can easily integrate in your shipping processes. Shipcloud reduces and simplifies the workflow at orers shipping
We save you the hard way of agreemts with separate shipping services and bill all your shipments over one central webservice. You will be invoiced monthly - doesn't matter how many services you use.
Data sheet
Prestashop version

1.6.x
1.7.x
Customers who bought this product also bought: