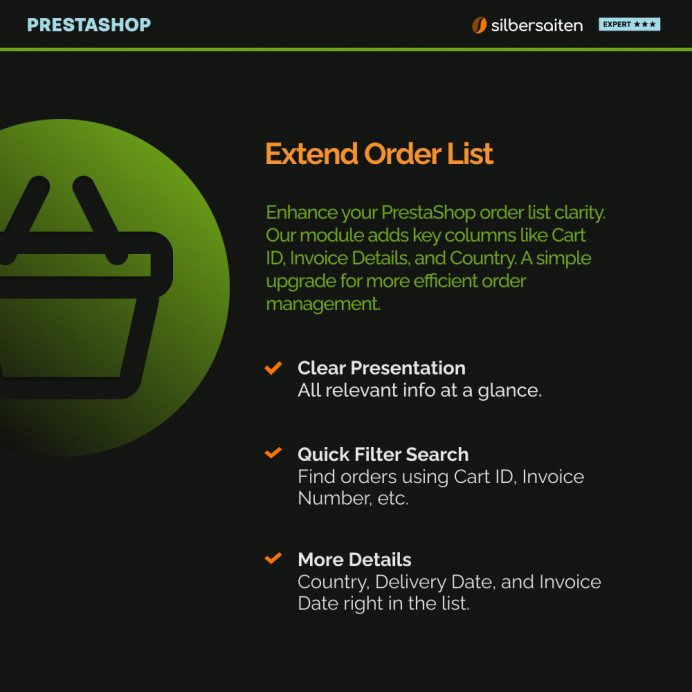  
Extended Order List
Boost your efficiency with our PrestaShop module! It enhances your order list with essential columns like Cart ID, Invoice Number, Invoice Date, Country, and Delivery Date. With the refined filter search, find orders in no time. Perfect integration, more details, and streamlined management await you!

Official Prestashop module developer

1 year free support and updates

Prestashop partner since 2009
Upgrade your PrestaShop experience with our module. Enjoy enhanced clarity with additional columns such as Cart ID, Invoice Details, and Country, leading to more efficient order management.
Clear Presentation:
All relevant info at a glance.
Quick Filter Search:
Find orders using Cart ID, Invoice Number, etc.
More Details:
Country, Delivery Date, and Invoice Date right in the list.
Efficient Management:
Time-saving order processing with enhanced overview.
Summary
With the new PrestaShop module, you get a clearer view of your order list. Thanks to the added columns and filter search, you can process and manage orders more swiftly. The module seamlessly blends into your shop system, offering you all vital details right in the order overview. A must-have for every PrestaShop admin!